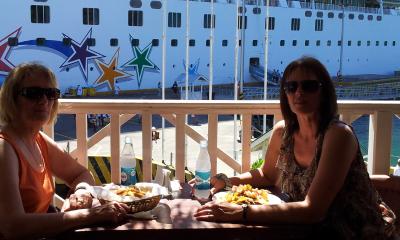 Lunch in Roatan





My mom and I took a cruise on Feb 3 out of New Orleans. We cruised the western Caribbean. NCL has the friendliest and most helpful staff. We continued to get lost because the boat is rather large. When needing directions, there was always a friendly face willing to help us find our way. The dining rooms were really comfortable. The waitresses and waiters knew their stuff and presented the food hot.
Our stateroom boy was Angelo. He greeted us every morning and evening. Asked how we were and what we had planned for the day. I loved the towel animals he made and left on the bed.
One thing I need to mention is the entertainment. A different show was put on every night. Very professionally done. The dancers were really good and entertaining. Shark Bait was hilarious. I even purchased their DVD and juggling balls, which I ended up watching instead of participating because it was more entertaining that way. People were having a ball trying to juggle their socks.
This was my first cruise and my moms 5th or 6th. She picked the western Caribbean and I'm so glad she did. I had the time of my life. I would recommend Norwegian Cruise Line for anybody planning to cruise. Should I cruise in the future? NCL will be my choice!!
11

of

11

found this story helpful.